$200 Final Fantasy 14: Stormblood Collector's Edition Detailed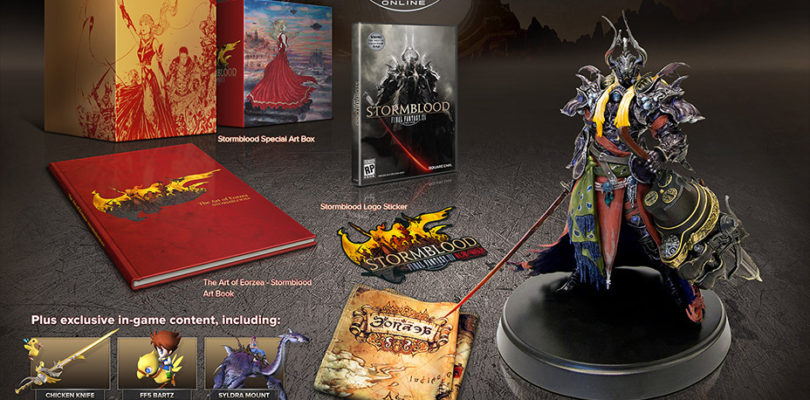 A premium-priced collector's edition for upcoming Final Fantasy XIV expansion Stormblood is now available for preorder, Square Enix announced today.
This special edition of Stormblood comes with the expansion and a combination of in-game and real-world items. The latter include a cloth map of Eorzea, an art book, a logo sticker, and–most significantly–an "expertly crafted" Zenos yae Galvus figure, the size of which wasn't shared. All of this comes housed inside a special "art" box.
On the digital side, you'll receive exclusive items: the Syldra mount, the Wind-Up Bartz minion, and the Chicken Knife. For an unspecified price, you'll be able to purchase a digital upgrade that includes the collector's edition's digital items, but none of the physical ones.
The collector's edition costs $200–quite a bit more than the standard, $40 edition.
Stormblood, the second expansion for the MMO, launches on June 20. Preordering any edition of the expansion provides early access that begins on June 16, along with two in-game items: the Wind-Up Red Mage minion and the Ala Mhigan earrings. Those preordering through the PlayStation Store also receive an exclusive theme and avatar.
Square Enix announced Stormblood back in October alongside the 4.0 update. Stormblood increases the level cap from 60 to 70 and adds new dungeons, raids, gear, and a fourth residential area. It sounds like a substantial expansion–director Naoki Yoshida has claimed it contains a "full standalone game's worth of content."
Notably, Stormblood raises the PC version's minimum specs and will not be available on PS3. Support for that version will be cut off when Stormblood launches.
Preorders for the PS4 and PC collector's edition are available through the Square Enix store.