GTA 5 Online Update Adds New Car and Customization Option
[UPDATE] Rockstar has also announced a new, weekly sale on the following items:
25% more GTA$ on Vehicle Export
25% off Special Vehicle Warehouse Renovations & Special Cargo Warehouses
50% off Grenade Launchers
25% off Engine Performance Upgrades
25% off Body Armor, Ammo, Throwables and Explosive Weapon Ammo
25% off all Masks
These deals are good until January 16.
The original story is below.
A new car and customization option are now available in Grand Theft Auto V's multiplayer mode, GTA Online.
As announced on the Rockstar Newswire, players can now pick up the Progen Itali GTB Custom from Benny's Original Motor Works shop in the game. Here is what it looks like (before customizations):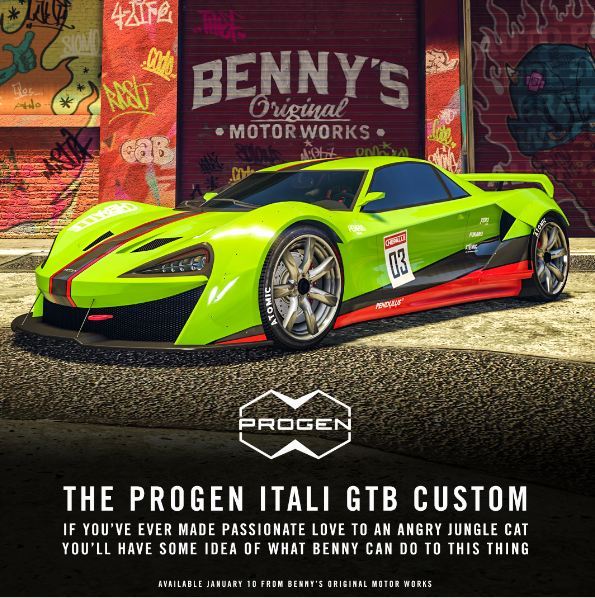 "This sleek jungle cat packs serious speed, devours tight turns with ease, and is sure to terrorize opposing racers across the circuit," Rockstar said about it. "Endlessly customizable, Benny's latest includes options to modify everything from engine performance to the finest interior details."
Rockstar also announced today that some GTA Online players won't have to travel to Benny's to customize their rides. "Qualifying executives" can buy the Custom Auto Shop add-on for their office. Rockstar didn't provide any specifics on what level of executive you need to be to qualify.
Released in 2013, GTA V and GTA Online continue to be popular. Just recently, Sony announced that GTA V landed in the No. 6 position on the PlayStation Store's chart for best-selling games of 2016.