Mental Health Group Aims To Bring Aid To More Conventions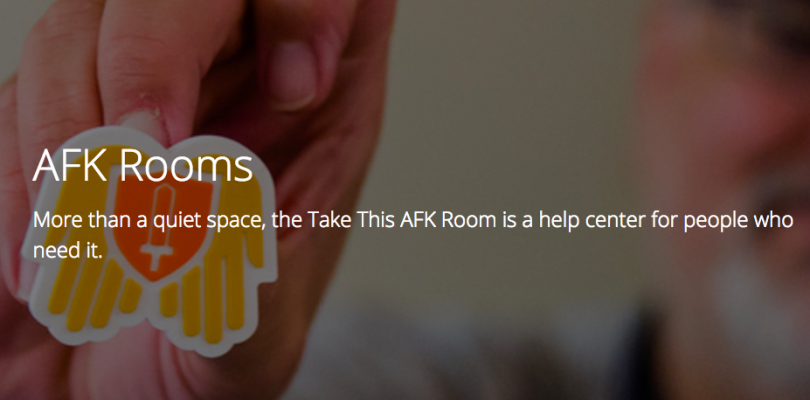 Since 2014, Take This has provided "AFK Rooms" at a number of conventions to anyone who needs a safe, quiet space. For 2017, the mental health-focused nonprofit has raised $15K for its PAX East AFK Room through an Indiegogo campaign, but it's not stopping there–it's seeking funding for at least six other conventions this year.
AFK Rooms are break areas staffed with mental health professionals during busy conventions. Anyone and everyone is welcome, and they're especially helpful for con-goers who have anxiety, depression, or sensory sensitivities who can easily get overwhelmed by crowds and the stress of working a con. Visiting an AFK Room can mean avoiding an anxiety attack, for example, that would make attendance difficult or impossible.
AFK Rooms are also a critical, if not life-saving, resource for anyone who needs immediate professional help, since clinicians are available to answer questions and give advice. A big part of Take This' job when setting up a room is recruiting and preparing staff, many of whom have never been to a gaming event before.
This education goes both ways. In addition to supplying a space and finding health care professionals, Take This also trains convention staff to deal with mental health issues at a basic level, helping to ensure that as many people as possible receive proper attention in high-stress environments.
Take This is asking for around $15K (though in some cases more) to support travel and resource costs for each con. Meeting or exceeding its $200K goal would allow the organization to bring AFK Rooms to its usual seven major conventions, including E3 and PAX Aus, with the possibility of expanding to five new ones.
So far, only PAX East–which is in March–has been funded.
Take This' overall mission is to educate the gaming community about mental illness. For more information, you can visit its website.