Nintendo Switch Devkit Menus Accidentally Leaked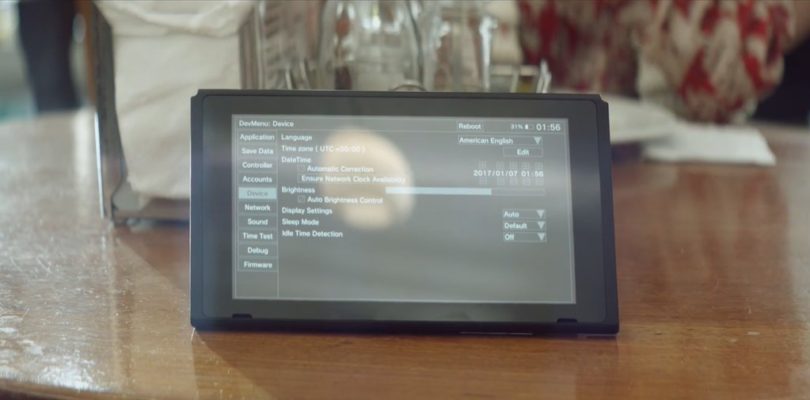 A commercial for the Nintendo Switch has been inadvertently posted to YouTube by Nintendo Portugal, which exposed devkit UI menus for all to see.
NeoGAF user mocolostrocolos posted screenshots of the now-removed YouTube video. The shots show the Application, Device, and Firmware menus from the Switch's devkit UI, providing some insight into what devs had to play with. Nintendo Switch devkits contain 64GB of internal storage, compared to the 32GB confirmed to be in the retail version. The Device menu also shows the ability to manually and automatically set the time, toggle automatic brightness control, and make changes to the console's sleep mode and idle time detection.
Other screens reference an unknown application called "Tandem," confirm a devkit firmware version number of 0.2.0-3, as well as clearly showing the reflection of the video camera and cameraperson. At 3:23 of the video, some shaky, hastily-edited gameplay footage has been mapped to the unpowered screen of a switch between two actors, presumably pretending to play 1-2 Switch's cow milking mode.
You might be wondering why the screens are on at all, why not just turn them off for filming? NeoGAF user LordofPwn claimed it's common for screens to be switched on in order to make it easier for video editors to identify where the screen ends and the bezel begins.
We've embedded another user's mirror of the removed video below, so catch it before it's pulled as well.
In other Nintendo Switch news, the paid online services subscription may cost less than you expect, 100 games are confirmed to be in development for the platform, and check out a far more official look at the non-devkit system menus and accessories.