Project Scorpio Will Play Some Games In Native 4K, Xbox Boss Confirms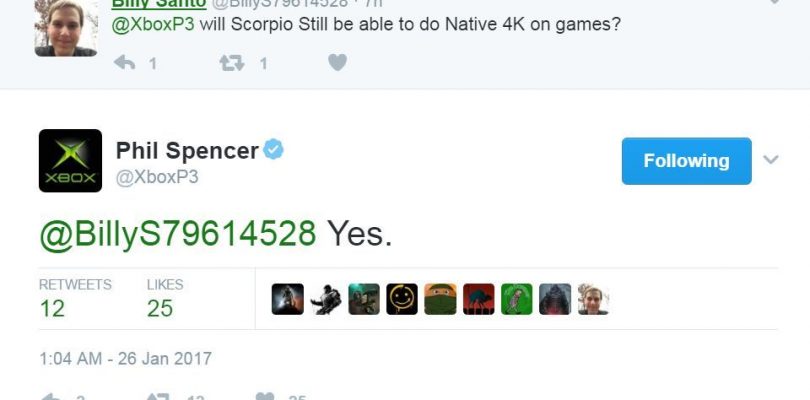 Following a report that emerged this week that shed new light on Project Scorpio RAM details, there has apparently been some confusion as to whether or not the console will deliver native 4K for some games. Xbox boss Phil Spencer has now cleared up the confusion with a simple response.
Asked by someone on Twitter if Scorpio will run games in native 4K, he replied, "Yes."
In another tweet about Scorpio and 4K, Spencer said, "Honest my focus is just on getting games ready to show and play. That will be the explanation. I'm confident in the results."
Microsoft has said that all of its first-party games will run at a native 4K. "Any games we're making that we're launching in the Scorpio time frame, we're making sure they can natively render at 4K," Microsoft Studios GM Shannon Loftis said in September.
Last year, Xbox marketing boss Aaron Greenberg said Scorpio will offer graphical fidelity on a level "never seen before" on console.
"It will bring these really true 4K, really incredible visual games that we've never seen before on the console," he said at the time. "People who have spent thousands of dollars on a high-end PC are getting that experience. How do we bring that to scale in a console in your living room? That's a big part of what Project Scorpio is about."
In other Scorpio news, a developer who worked on Ori and the Blind Forest recently said Scorpio is a "full-blown next-gen machine," while PlayStation 4 Pro is a "half-assed upgrade."