PS4's New Update Adds PS4 Pro Enhancements For Unpatched Games
Update: Sony has now confirmed additional details about Boost mode, including the fact that its benefits may extend beyond improved frame rates.
"Boost Mode lets PS4 Pro run at a higher GPU and CPU clock speed for smoother gameplay on some PS4 games that were released before the launch of PS4 Pro (and has not been updated to support PS4 Pro)," a spokesperson said in a statement shared with GameSpot.
It also confirmed that, although the feature is in the update's beta, its inclusion in the official 4.50 release "is still under consideration."
The original story follows.
Sony today announced some of the key features coming to PlayStation 4 as part of the next big system update. There's also a major one for PS4 Pro owners that Sony did not mention: an option to improve performance in games that haven't been patched to support the Pro.
While all PS4 games are playable on PS4 Pro, they don't necessarily run or look better simply because of the system's higher-end hardware. Unlike the Xbox One S, which can produce slightly improved performance than on a standard Xbox One, games don't play any better on a Pro without an update.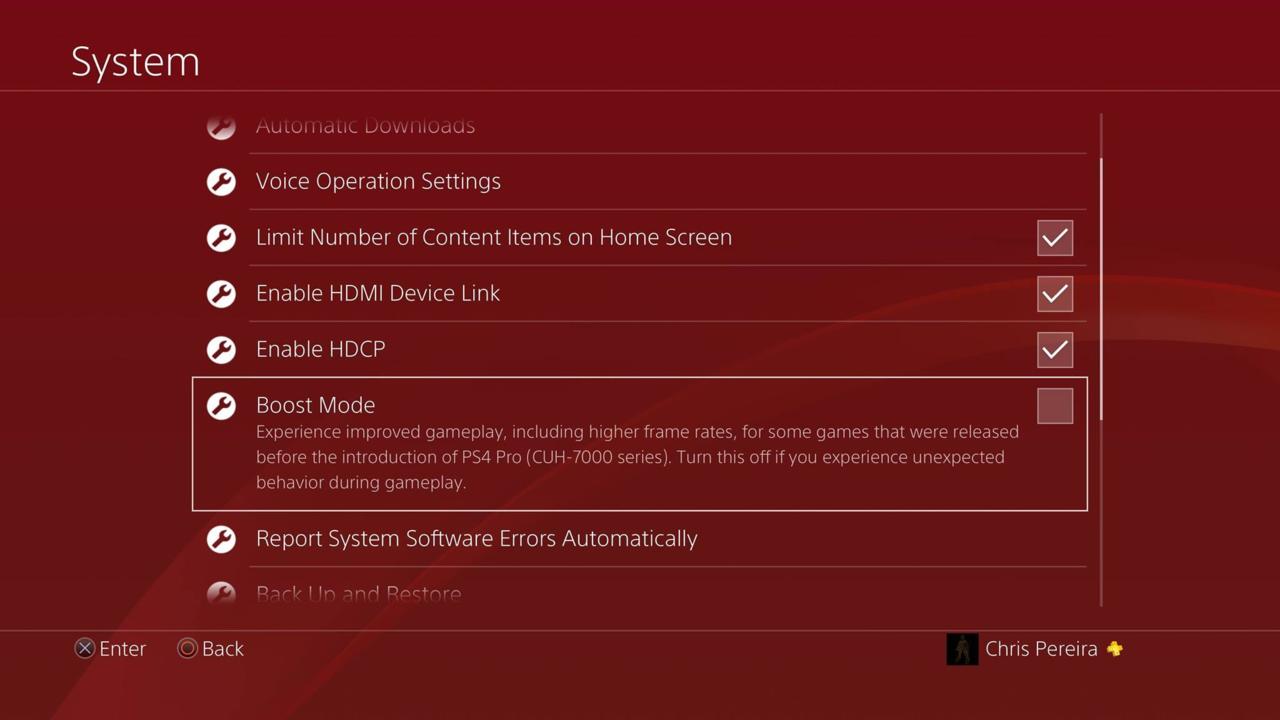 As first reported in screenshots shared on NeoGAF and since confirmed by GameSpot, the 4.50 beta update includes an option for something called Boost mode. This is located in the System section of the Settings menu. Its description states, "Experience improved gameplay, including higher frame rates, for some games that were released before the introduction of PS4 Pro (CUH-7000 series)."
The menu goes on to note you should disable the feature if "you experience unexpected behavior during gameplay."
A number of videos have already made their way online from those who have access to the update. The one above of The Evil Within comes from YouTube user Noel Underson. It seems to show a much-improved frame rate in an early section of the game that otherwise features pretty severe slowdown.
Results are likely to vary from game to game. As Sony has not yet officially announced the feature, it's possible it may not make it into the full release of update 4.50.
We'll report back as we learn about Boost mode. The 4.50 update also introduces external storage support, a revamped Quick menu, and more.
This story has been updated with confirmation of Boost mode.