Royal Rumble 2017: The 3 Best Matches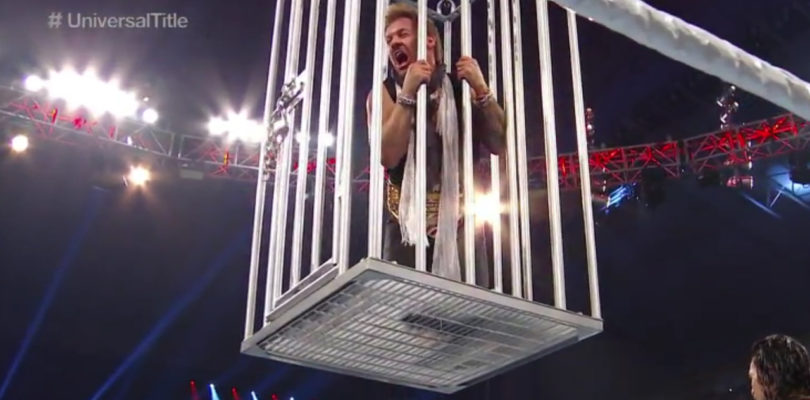 The Royal Rumble, one of WWE's biggest PPV events, aired on Sunday, January 29, and it featured some of the company's biggest talent involved in a plethora of matches. We're taking a look at some of the best moments from the 2017 Royal Rumble.
For complete results from the Royal Rumble click here. Warning: Spoilers below.
Prior to the actual event, there was a two-hour long Kickoff show, which featured three matches, a whole lot of commentators talking, and numerous videos that were repackaged from previous Royal Rumbles. There were some entertaining moments like Gallows and Anderson finally winning the Raw Tag Team Championships, Nia Jax squashing Sasha Banks in a brutal beatdown, and Naomi proving she's far more talented than most of the Smackdown women's roster. This Kickoff show felt bloated with filler.
When the Kickoff show ended, the official Royal Rumble began, and this was when the WWE Network began to have some streaming issues, most likely because the service was being offered free for one month and an influx of new users clogged everything up. This affected numerous matches, and it made the Neville/Rich Swann match completely unwatchable for many users. Regardless of the issues, here were the matches that truly stood above the others for this PPV.
3. The Royal Rumble
Right off the bat, the crowd was wowed with the antics of Jack Gallagher, who brought his umbrella to the ring. He was like a modern-day Mary Poppins, minus the song and dance routine. He wasn't the only high spot, by far. "The Perfect Ten" Tye Dillinger entered the Rumble at #10. Unlike previous NXT stars who entered the match in the past, Dillinger stood his ground and went toe-to-toe with some of WWE's biggest talent, including Braun Strowman. He truly held his own in the match, and hopefully, this means he'll be getting called up to either Raw or Smackdown soon.
One of the other highlights happened with Bray Wyatt, Randy Orton, and Luke Harper all in the ring at the same time. There has been tension between the members of the Wyatt Family and Harper finally turned on Wyatt during the match. A good Rumble should always build towards bigger matches, like this hopefully does. As much as I do not care for Brock Lesnar and Goldberg, it continued the storyline of Goldberg squashing Lesnar, which was a fantastic buildup for Wrestlemania. They were utilized incredibly well; however, part of me wondered if Goldberg's elimination by Undertaker was planned at that moment. Goldberg seemed to slip and Undertaker looked surprised.
Towards the end of the match, Roman Reigns came out as entrant #30. Fans were hoping that spot was saved for a surprise entrant, not someone they saw wrestle earlier that evening. Then, Randy Orton won the Royal Rumble match, which was unexpected and extremely disappointing because so many other stars were favored to win. It sucked. However, just because those moments happened, back-to-back at the end of the show, doesn't mean the match was bad overall. The majority of the Rumble match itself was amazing.
2. Kevin Owens vs Roman Reigns
Without a doubt, the Universal title match between Roman Reigns and Kevin Owens proved why Owens is not only a fantastic wrestler but the champion the company needs. He carried this match and gave us some fantastic high spots, like his frogsplash to outside of the ring. Owens threw everything at Reigns, including some brass knuckles tossed to him by a caged Chris Jericho. Watching Owens perform was nothing short of a delight.
There were some downsides to the match. First and foremost, it seemed to be built around the idea that Reigns couldn't be beat, unless a bigger, "cooler-looking" wrestler interfered and hurt Reigns. Secondly, Owens put his body on the line, time and time again, creating some brilliant moments. Reigns never really took any big bumps. I'm not saying Reigns should do a 450 Splash off the top rope, through a table, but it would have been nice if he could raise the bar on his in-ring performance a bit, since it felt like Owens really carried this match.
Regardless, this match told a story exceptionally well and was one of the most entertaining matches of the evening. Plus, we got to see Owens retain his title, which–for many fans–was a bit unexpected as there were many rumors stating that Reigns was going to win.
1. AJ Styles vs John Cena
Past matches between "The Phenomenal" AJ Styles and John Cena were–no pun intended–phenomenal, and while I wasn't head-over-heels with the fact Cena won his 16th world title, breaking Ric Flair's record, this match was exciting and worthy of the hype. The biggest difference between this and Owens/Reigns was that Cena sold his performance much better. Sure, there were moments, right from the get-go, where I kept thinking, "Why does Cena seem so winded? We're only a minute in."
Regardless, this was a spectacular back-and-forth battle that offered up some great spots. My only real critique is that I wish Cena's arsenal had some more maneuvers that weren't so huge. Many of his moves would be a finisher for any other star, although I love the sunsetflip powerbomb. Cena played the part of the hero rising to the occasion exceptionally well. Styles seemed to have a slight edge on Cena, so there were odds for him to overcome.
Yes, Cena ended up winning, and no, it's not the way a lot of people wanted this match to go, but it did get people talking about Cena's future with the title. That's an important element to this match as well. Will Cena lose the title at Elimination Chamber, if it's on the line, or will he face Orton at Wrestlemania? Personally, I'd love to see Styles get the title back in a couple weeks.
Overall, the 2017 Royal Rumble offered up more good than bad, and these three matches were the highlight, as long as you can forget about the finish to the Royal Rumble match. Let us know what your favorite matches were for this year's Royal Rumble.