This Week's PS4, PS3, and Vita Deals Revealed
It's the second week of the PlayStation Store's 10th Anniversary Sale, and the deals have been revealed. Although there aren't quite as many as last week, there are still some good discounts that you might be interested in if you own a PS4, PS3, or Vita.
PS4 users get discounts on games like:
Additionally, those with a PS4 can purchase the complete first season of Life Is Strange for $10.
PS3 owners have discounts like: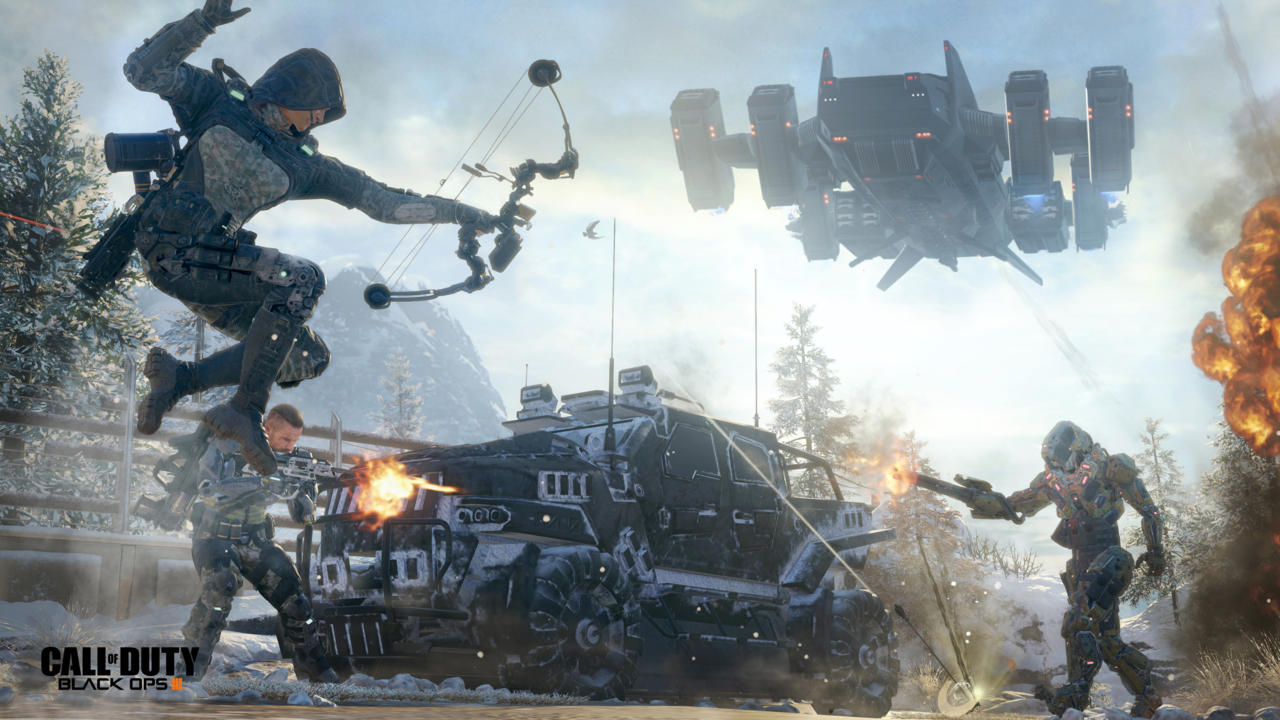 Vita owners can take advantage of discounts on games like:
You can see all of the weekly deals here or in the lists below. They last until November 22 at 8 AM PT.
PlayStation Sales
PS4
| | | |
| --- | --- | --- |
| Product Name | Sale Price | Original Price |
| Aeternoblade PS4 Bundle | $4.99 | $19.99 |
| Arc The Lad: Twilight Of The Spirits | $5.99 | $14.99 |
| Battleborn | $29.99 | $59.99 |
| Battleborn Digital Deluxe | $37.49 | $74.99 |
| Battlefield Hardline Deluxe Edition | $17.49 | $34.99 |
| Battlefield Hardline Ultimate Edition | $34.99 | $69.99 |
| Battlefield Hardline: Battlefield Hardline Premium | $24.99 | $49.99 |
| Call Of Duty: Black Ops III – Digital Deluxe Edition | $74.99 | $99.99 |
| Call Of Duty: Black Ops III – Gold Edition | $44.99 | $59.99 |
| Counterspy | $7.49 | $14.99 |
| Crazy Strike Bowling Ex | $4.93 | $12.99 |
| Crimsonland (Cross-Buy) | $2.79 | $13.99 |
| Dark Cloud | $5.99 | $14.99 |
| Dark Cloud 2 | $5.99 | $14.99 |
| Destiny: The Taken King | $13.79 | $19.99 |
| Fat Princess Adventures | $5.99 | $14.99 |
| Fluster Cluck | $4.99 | $9.99 |
| God Of War III Remastered | $9.99 | $19.99 |
| Gravity Rush Remastered | $17.99 | $29.99 |
| Helldivers Democracy Strikes Back Edition | $23.99 | $39.99 |
| Hohokum | $5.99 | $14.99 |
| Hotline Miami 2: Wrong Number (Cross-Buy) | $7.49 | $14.99 |
| Kinetica | $5.99 | $9.99 |
| Life Is Strange Complete Season | $9.99 | $19.99 |
| Metal Slug 3 | $7.49 | $14.99 |
| Need For Speed Deluxe Edition | $14.99 | $29.99 |
| Psychonauts (PS2 Classic) | $3.99 | $9.99 |
| Race The Sun (Cross-Buy) | $3.99 | $9.99 |
| Resogun | $4.49 | $14.99 |
| Rogue Legacy (Cross-Buy) | $5.94 | $16.99 |
| Space Rift – Episode 1 (VR) | $17.99 | $19.99 |
| The King Of Fighters 2000 | $4.99 | $9.99 |
| The Mark Of Kri | $5.99 | $14.99 |
| The Tomorrow Children: 100 Freeman Dollars | $0.84 | $0.99 |
| The Tomorrow Children: 1050 Freeman Dollars | $8.49 | $9.99 |
| The Tomorrow Children: 12000 Freeman Dollars | $84.99 | $99.99 |
| The Tomorrow Children: 200 Freeman Dollars | $1.69 | $1.99 |
| The Tomorrow Children: 2150 Freeman Dollars | $16.99 | $19.99 |
| The Tomorrow Children: 500 Freeman Dollars | $4.24 | $4.99 |
| The Tomorrow Children: 5800 Freeman Dollars | $42.49 | $49.99 |
| The Tomorrow Children: 800 Freeman Dollars | $6.79 | $7.99 |
| Titan Souls (Cross-Buy) | $7.49 | $14.99 |
PS3
| | | |
| --- | --- | --- |
| Product Name | Sale Price | Original Price |
| Call Of Duty: Black Ops III | $24.49 | $49.99 |
| Chrono Cross (PSone Classic) | $2.99 | $9.99 |
| Counterspy | $7.49 | $14.99 |
| Crimsonland (Cross-Buy) | $2.79 | $13.99 |
| Destiny: The Taken King | $13.79 | $19.99 |
| Destiny: The Taken King – Digital Collector's Edition | $24.39 | $39.99 |
| Destiny: The Taken King – Legendary Edition | $19.79 | $29.99 |
| Dino Crisis 2 (PSone Classic) | $2.99 | $5.99 |
| Disney Pixar Toy Story Racer (PSone Classic) | $2.99 | $5.99 |
| Disney/Pixar Cars (PS2 Classic) | $3.99 | $9.99 |
| Fatal Frame III: The Tormented (PS2 Classic) | $3.99 | $9.99 |
| Final Fantasy Vii (PSone Classic) | $2.99 | $9.99 |
| Gex: Enter The Gecko (PSone Classic) | $2.99 | $5.99 |
| God Hand (PS2 Classic) | $3.99 | $9.99 |
| Harvest Moon: Save The Homeland (PS2 Classic) | $3.99 | $9.99 |
| Helldivers Democracy Strikes Back Edition | $11.99 | $19.99 |
| Hohokum | $5.99 | $14.99 |
| Hotline Miami 2: Wrong Number (Cross-Buy) | $7.49 | $14.99 |
| Infamous Collection | $10.49 | $14.99 |
| Jak And Daxter Collection | $4.99 | $9.99 |
| Klonoa: Door To Phantomile (PSone Classic) | $2.99 | $5.99 |
| Legend Of Mana (PSone Classic) | $2.99 | $5.99 |
| Manhunt (PS2 Classic) | $3.99 | $9.99 |
| Medal Of Honor (PSone Classic) | $2.99 | $5.99 |
| Mega Man Legends (PSone Classic) | $2.99 | $9.99 |
| Mega Man Legends 2 (PSone Classic) | $2.99 | $9.99 |
| Mega Man X4 (PSone Classic) | $2.99 | $5.99 |
| Mega Man X5 (PSone Classic) | $2.99 | $5.99 |
| Metal Slug 3 | $7.49 | $14.99 |
| Namco Museum Vol. 3 (PSone Classic) | $2.99 | $5.99 |
| Pac-Man World 20th Anniversary (PSone Classic) | $2.99 | $5.99 |
| Parasite Eve (PSone Classic) | $2.99 | $5.99 |
| Persona2: Eternal Punishment (PSone Classic) | $2.99 | $9.99 |
| Race The Sun (Cross-Buy) | $3.99 | $9.99 |
| Rayman (PSone Classic) | $2.99 | $5.99 |
| Resident Evil 2 (PSone Classic) | $2.99 | $5.99 |
| Resogun | $4.49 | $14.99 |
| Rogue Legacy (Cross-Buy) | $5.94 | $16.99 |
| Shin Megami Tensei: Digital Devil Saga (PS2 Classic) | $3.99 | $9.99 |
| Shin Megami Tensei: Digital Devil Saga2 (PS2 Classic) | $3.99 | $9.99 |
| Shin Megami Tensei: Nocturne (PS2 Classic) | $3.99 | $9.99 |
| Shin Megami Tensei: Persona 3 FES (PS2 Classic) | $3.99 | $9.99 |
| Shin Megami Tensei: Persona 4 (PS2 Classic) | $3.99 | $9.99 |
| Simcity 2000 (PSone Classic) | $2.99 | $5.99 |
| Star Wars: Episode III: Revenge Of The Sith (PS2 Classic) | $3.99 | $9.99 |
| Starhawk Ultimate Edition | $14.99 | $49.99 |
| Suikoden (PSone Classic) | $2.99 | $5.99 |
| Suikoden II (PSone Classic) | $2.99 | $9.99 |
| Syphon Filter 2 (PSone Classic) | $2.99 | $5.99 |
| The Sly Collection | $7.49 | $14.99 |
| Tomb Raider 2 (PSone Classic) | $2.99 | $5.99 |
| Tomba! (PSone Classic) | $2.99 | $9.99 |
| Tomba! 2 (PSone Classic) | $2.99 | $5.99 |
| Vagrant Story (PSone Classic) | $2.99 | $5.99 |
| Wicked Monster Blast! HD | $0.99 | $9.99 |
| Wild Arms (PSone Classic) | $2.99 | $5.99 |
| Wild Arms 2 (PSone Classic) | $2.99 | $5.99 |
Vita
| | | |
| --- | --- | --- |
| Product Name | Sale Price | Original Price |
| Aeternoblade Vita Bundle | $2.99 | $19.99 |
| Counterspy | $7.49 | $14.99 |
| Crimsonland (Cross-Buy) | $2.79 | $13.99 |
| Gravity Rush | $8.08 | $13.49 |
| Helldivers Democracy Strikes Back Edition | $11.99 | $19.99 |
| Hohokum | $5.99 | $14.99 |
| Hotline Miami 2: Wrong Number (Cross-Buy) | $7.49 | $14.99 |
| Jak And Daxter Collection | $4.99 | $9.99 |
| Metal Slug 3 | $7.49 | $14.99 |
| Race The Sun (Cross-Buy) | $3.99 | $9.99 |
| Resogun | $4.49 | $14.99 |
| Rogue Legacy (Cross-Buy) | $5.94 | $16.99 |
| The Sly Collection | $7.49 | $14.99 |
| Titan Souls (Cross-Buy) | $7.49 | $14.99 |
| Wanderjahr | $7.49 | $9.99 |
PlayStation Plus Sales
PS4
| | | |
| --- | --- | --- |
| Product Name | Sale Price | Original Price |
| Arc The Lad: Twilight Of The Spirits | $4.99 | $14.99 |
| Battleborn | $23.99 | $59.99 |
| Battleborn Digital Deluxe | $29.99 | $74.99 |
| Battlefield Hardline Deluxe Edition | $13.99 | $34.99 |
| Battlefield Hardline Premium | $19.99 | $49.99 |
| Battlefield Hardline Ultimate Edition | $27.99 | $69.99 |
| Call Of Duty: Black Ops III – Digital Deluxe Edition | $64.99 | $99.99 |
| Call Of Duty: Black Ops III – Gold Edition | $39.59 | $59.99 |
| Counterspy | $5.99 | $14.99 |
| Crimsonland (Cross-Buy) | $1.39 | $13.99 |
| Dark Cloud | $4.99 | $14.99 |
| Dark Cloud 2 | $4.99 | $14.99 |
| Destiny: The Taken King | $11.79 | $19.99 |
| Fat Princess Adventures | $4.49 | $14.99 |
| Fluster Cluck | $1.99 | $9.99 |
| God Of War III Remastered | $7.99 | $19.99 |
| Gravity Rush Remastered | $14.99 | $29.99 |
| Helldivers Democracy Strikes Back Edition | $19.99 | $39.99 |
| Hohokum | $4.49 | $14.99 |
| Hotline Miami 2: Wrong Number (Cross-Buy) | $5.99 | $14.99 |
| Kinetica | $4.99 | $9.99 |
| Life Is Strange Complete Season | $7.99 | $19.99 |
| Metal Slug 3 | $5.99 | $14.99 |
| Need For Speed Deluxe Edition | $11.99 | $29.99 |
| Psychonauts (Ps2 Classic) | $2.99 | $9.99 |
| Race The Sun (Cross-Buy) | $2.99 | $9.99 |
| Resogun | $2.99 | $14.99 |
| Rogue Legacy (Cross-Buy) | $4.24 | $16.99 |
| Space Rift – Episode 1 (VR) | $15.99 | $19.99 |
| The King Of Fighters 2000 | $3.99 | $9.99 |
| The Mark Of Kri | $4.99 | $14.99 |
| Titan Souls (Cross-Buy) | $5.99 | $14.99 |
PS3
| | | |
| --- | --- | --- |
| Product Name | Sale Price | Original Price |
| Destiny: The Taken King | $9.79 | $19.99 |
| Call Of Duty: Black Ops III | $19.49 | $49.99 |
| Chrono Cross (PSone Classic) | $1.99 | $9.99 |
| Counterspy | $5.99 | $14.99 |
| Crimsonland (Cross-Buy) | $1.39 | $13.99 |
| Destiny: The Taken King – Digital Collector's Edition | $19.59 | $39.99 |
| Destiny: The Taken King – Legendary Edition | $14.69 | $29.99 |
| Dino Crisis 2 (PSone Classic) | $1.99 | $5.99 |
| Disney Pixar Toy Story Racer (PSone Classic) | $1.99 | $5.99 |
| Disney/Pixar Cars (PS2 Classic) | $3.49 | $9.99 |
| Fatal Frame III: The Tormented (PS2 Classic) | $3.49 | $9.99 |
| Final Fantasy Vii (PSone Classic) | $1.99 | $9.99 |
| Gex: Enter The Gecko (PSone Classic) | $1.99 | $5.99 |
| God Hand (PS2 Classic) | $3.49 | $9.99 |
| Harvest Moon: Save The Homeland (PS2 Classic) | $3.49 | $9.99 |
| Helldivers Democracy Strikes Back Edition | $9.99 | $19.99 |
| Hohokum | $4.49 | $14.99 |
| Hotline Miami 2: Wrong Number (Cross-Buy) | $5.99 | $14.99 |
| Infamous Collection | $8.99 | $14.99 |
| Jak And Daxter Collection | $3.99 | $9.99 |
| Klonoa: Door To Phantomile (PSone Classic) | $1.99 | $5.99 |
| Legend Of Mana (PSone Classic) | $1.99 | $5.99 |
| Manhunt (PS2 Classic) | $3.49 | $9.99 |
| Medal Of Honor (PSone Classic) | $1.99 | $5.99 |
| Mega Man Legends (PSone Classic) | $1.99 | $9.99 |
| Mega Man Legends 2 (PSone Classic) | $1.99 | $9.99 |
| Mega Man X4 (PSone Classic) | $1.99 | $5.99 |
| Mega Man X5 (PSone Classic) | $1.99 | $5.99 |
| Metal Slug 3 | $5.99 | $14.99 |
| Namco Museum Vol. 3 (PSone Classic) | $1.99 | $5.99 |
| Pac-Man World 20th Anniversary (PSone Classic) | $1.99 | $5.99 |
| Parasite Eve (PSone Classic) | $1.99 | $5.99 |
| Persona2: Eternal Punishment (PSone Classic) | $1.99 | $9.99 |
| Race The Sun (Cross-Buy) | $2.99 | $9.99 |
| Rayman (PSone Classic) | $1.99 | $5.99 |
| Resident Evil 2 (PSone Classic) | $1.99 | $5.99 |
| Resogun | $2.99 | $14.99 |
| Rogue Legacy (Cross-Buy) | $4.24 | $16.99 |
| Shin Megami Tensei: Digital Devil Saga (PS2 Classic) | $3.49 | $9.99 |
| Shin Megami Tensei: Digital Devil Saga2 (PS2 Classic) | $3.49 | $9.99 |
| Shin Megami Tensei: Nocturne (PS2 Classic) | $3.49 | $9.99 |
| Shin Megami Tensei: Persona 3 FES (PS2 Classic) | $3.49 | $9.99 |
| Shin Megami Tensei: Persona 4 (PS2 Classic) | $3.49 | $9.99 |
| Simcity 2000 (PSone Classic) | $1.99 | $5.99 |
| Star Wars: Episode III: Revenge Of The Sith (PS2 Classic) | $3.49 | $9.99 |
| Starhawk Ultimate Edition | $9.99 | $49.99 |
| Suikoden (PSone Classic) | $1.99 | $5.99 |
| Suikoden II (PSone Classic) | $1.99 | $9.99 |
| Syphon Filter 2 (PSone Classic) | $1.99 | $5.99 |
| The Sly Collection | $5.99 | $14.99 |
| Tomb Raider 2 (PSone Classic) | $1.99 | $5.99 |
| Tomba! (PSone Classic) | $1.99 | $9.99 |
| Tomba! 2 (PSone Classic) | $1.99 | $5.99 |
| Vagrant Story (PSone Classic) | $1.99 | $5.99 |
| Wild Arms (PSone Classic) | $1.99 | $5.99 |
| Wild Arms 2 (PSone Classic) | $1.99 | $5.99 |
Vita
| | | |
| --- | --- | --- |
| Product Name | Sale Price | Original Price |
| Counterspy | $5.99 | $14.99 |
| Crimsonland (Cross-Buy) | $1.39 | $13.99 |
| Gravity Rush | $6.74 | $13.49 |
| Helldivers Democracy Strikes Back Edition | $9.99 | $19.99 |
| Hohokum | $4.49 | $14.99 |
| Hotline Miami 2: Wrong Number (Cross-Buy) | $5.99 | $14.99 |
| Jak And Daxter Collection | $3.99 | $9.99 |
| Laser Disco Defenders (Cross-Buy) | $5.00 | $9.99 |
| Metal Slug 3 | $5.99 | $14.99 |
| Race The Sun ( Cross-Buy) | $2.99 | $9.99 |
| Resogun | $2.99 | $14.99 |
| Rogue Legacy (Cross-Buy) | $4.24 | $16.99 |
| The Sly Collection | $5.99 | $14.99 |
| Titan Souls (Cross-Buy) | $5.99 | $14.99 |